Tributes
Home | Sheet Music | Links | Music CD's | Awards | Photo Album | Tributes | Didi Eamon | Memorabilia | How To Order | Contact us
---
bi.og'ra.phy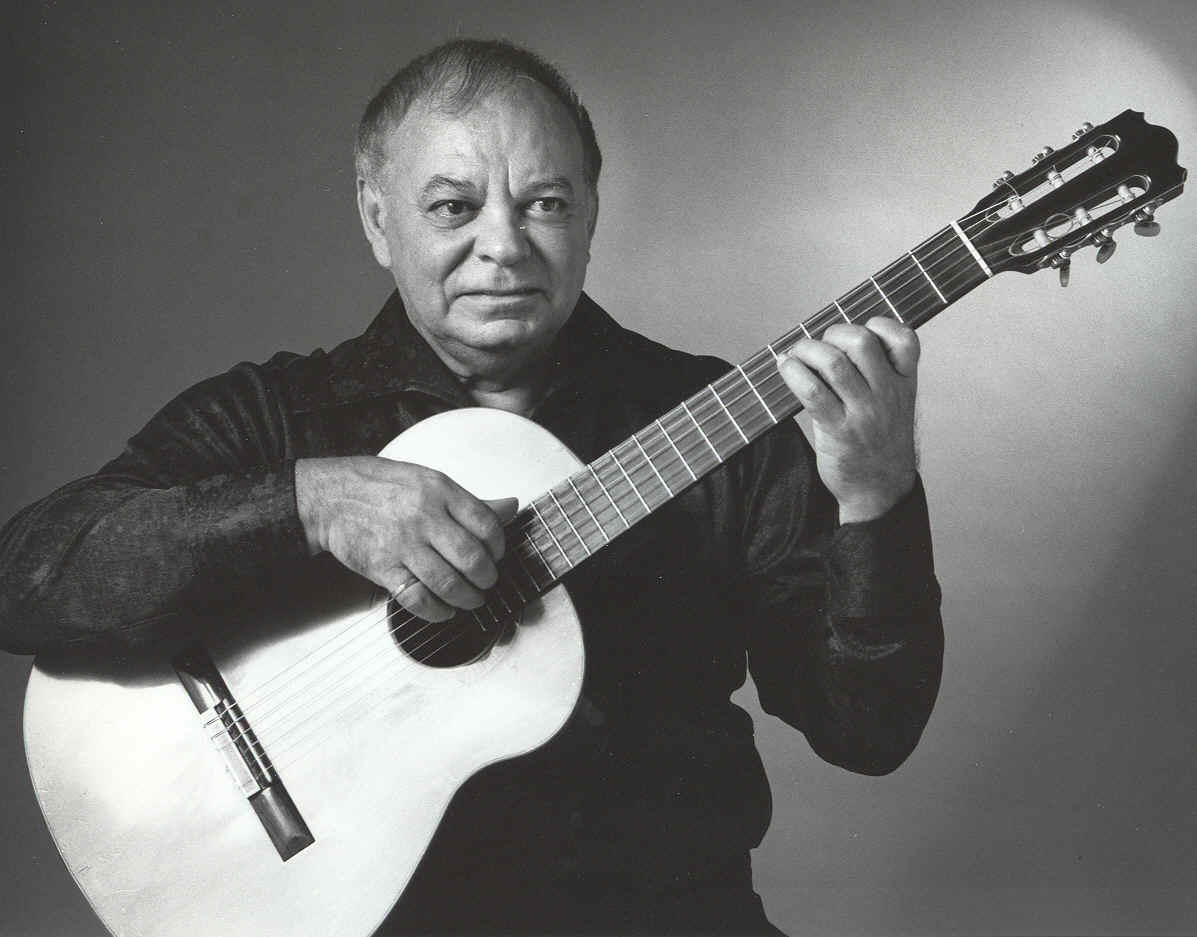 LAURINDO ALMEIDA guitarist
---
Laurindo Almeida was truly incomparable. One of the world's foremost great concert guitarists, he played dozens of concerts performing the works of the masters. Yet in 1964 and 1992 he toured much of the world as featured soloist with the Modern Jazz Quartet. His versatility was exciting !!
He brought Bossa Nova to the United States long before it was called that. He has scored many films, often composing, then playing his own music, and his famed recordings include everything from Bach to a beautiful solo album of Broadway favorites. Each of these things he did superbly, for he was unique among guitarists, and was so acclaimed by audiences and critics alike.
Almeida was born in Sao Paulo, Brazil of a musical family. He move to the United Sates in 1947, having already become one of Brazil's most famous musicians, admired even then by every kind of audience.
As a young musician touring Paris, Almeida became enamored with the legendary jazz stylist Django Reinhardt, and the music of this great innovator stayed with him. Upon coming to Hollywood his interest in the things that were happening in American jazz led him to Stan Kenton and a new career.
The Kenton orchestra, always famous for its innovation, gained recognition quickly and handsomely by a kind of guitar music that had never heard before - a cool, quiet sound, spectacular in its brilliance. As a featured jazz soloist, Chicago Opera House and Carnegie Hall, found Laurindo composing "Amazonia" and Pete Rugulo composing "Lament" for their history-making concerts. Even today, jazz guitarists are still studying and being influenced by the standards he set in the early Kenton days.
In 1950, Laurindo Almeida left Kenton to play concerts, to record and to compose; he has written more than 200 compositions among them his "First Concerto for Guitar and Orchestra" which he recorded for the Concord label. This was the beginning of yet another career, for through his early classical recordings for Capitol and Decca his fame as concert artist began to spread, first in the U.S. then the world over. He is credited with the American debut recordings of works by two of Brazil's greatest composers: Villa-Lobos "Guitar Concerto" and Radames Gnattali's "Concerto de Copacabana".
Almeida is a proud possessor of the certificate of Honor from the Achievement Recognition Institute for having the distinction of becoming a reference file within the The Library of Congress in Washington DC. Besides being a consistent winner in both the Down Beat and Playboy magazine Jazz Polls and Movie Polls winner since 1947 he has been nominated by the Academy of recording Arts and Sciences fifteen times and has won, five times, the desired Grammy Award. One of the Grammy Awards was for his composition "Discantus" which tied with Igor Stravinsky for best contemporary composition. For years he was listed in "Who's Who in America" and the International Biographical Centre. In 1977, he was awareded the Certificate of Appreciation from the American String Teachers Association for "A lifetime of dedicated and distinguished service to the guitar in the United States".
In 1983 he was presented the Vahdah Olcot-Bickford Memorial Award by the American Guitar Society on their 60th aniversary; for his "illustrious career as a performer and composer and his dedicated promotion of the music of the Americas which has been a major force in developing universal appreciation of the classical guitar in popular, contemporary and classical music".
In 1992 the Latin American and Caribbean Cultural Society conferred their award to him in London, England in recognition of his "great talent as a composer and performer". In 1993 the same Society presented he and his wife in a concert at the prestigious Wigmore Hall in London.
When you hear the movie music for great films such as "The Agony and the Ecstasy", "A Star Is Born", "The Old Man and The Sea", "Godfather", "Camelot", "Wagon Train", "Bonanza", the Oscar winning "Unforgiven" and many other films and television shows, remember the name Laurindo Almeida. He was the genius who played the guitar music for the underscoring. A short subject film entitled "Magic Pear Tree" for which he both composed and played the music was another Oscar winner!
In 1971, Almeida married Deltra Eamon, lyric soprano from Canada. Today, Deltra, a citizen of the United States makes her home in Sherman Oaks, California.
Laurindo Almeida passed away on July 26, 1995 in Los Angeles, California and was nearly 78 years of age.
This page last update January 9, 2011